The most sought after show 'Everyuth Times Fresh Face' is gearing up for the flourishing celebration of the upcoming season 13. This time the show will be in an all-new digital avatar. In the taxing time of pandemic can't take the shine of the show. The show will go on, participants will audition virtually from the comfort of their home.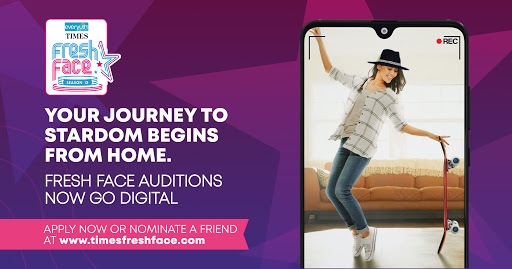 The purpose of the show is to showcase the students of seer talents conflated by charming skin and heart-winning personality. Since 12 years the show has been lightened up the life of the talented students who dream to be in entertainment industries.
It has changed the life of Nushrrat Baruccha, Sidharth Chaturvedi, Dhavani Bhanusali, Erica Fernandes, Shahir Bambba, Tridha Chaudhury, Rashmika Mandanna, Jameela Calcuttawala, Ashika Ranganath making them overnight celebrities. They are the inspiration for young college students across the country.
The show showcases the incredible talents like singing, dancing, acting, playing musical instruments, martial arts and callisthenics or any unique skills. With the Everyouth jury members on the board, contestants have to perform with the best of their shine.
Fresh Face Season 13 Auditions
Away from the amused college campus's physical audition, this time here's how to get into the show.
Simply log on to www.timesfresh.com
Create a high-quality audition video on the Moj App which is Everyouth's video content partner. Share the video with some basic details.
Students in the age group of 16-22 from any college from the following cities can participate: Mumbai9 including Navi Mumbai and Thane), Delhi and NCR, Bengaluru, Kolkata, Ahmedabad (including Vadodara and Surat), Chennai, Hyderabad and Pune.
If you will be shortlisted the Everyouth team will get in touch with you for online auditions. If you are making the audition, you will be welcomed to adorn the stage. If you will awe the audience and jury with your x-factor subsequently you can journey through city finale to national finale.
The winner of the much-coveted title will be crowned and win an exclusive prize to feature in the Everyouth's digital brand campaign. This season you could be flash on the Everyouth's billboard.
What are you looking for? Hurry and drop an awesome video on Timesfresh site.
Stay tuned for upcoming audition details in India.