The famous singing reality TV show Om Shanti Om is coming very soon on Star Bharat with its season 2 after a successful season 1. The show is a bhajan singing show where you will get to see some fearless characters along with their inspirational stories.
Here, in this show, the devotional music is celebrated with a western twist to it. This a unique thing in itself which was never seen in India before. The unique theme made the 1st season very successful and the 2nd is starting following the same path.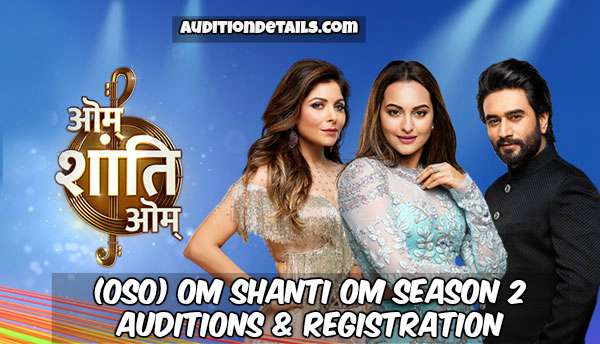 Another big thing about the show is the debut of Baba Ramdev Ji as a judge on television. He will seen as the maha judge in the show as the 1st season. The other judges of the show are Bollywood actress Sonakshi Sinha, singer Kanika Kapoor, and music director Shekhar Ravjiani. The excitement is huge for the show in India and also abroad as millions of people who speak Hindi and love the devotional songs are in love of this show. The producers of this amazing show are Pankaj Narayan and Apoorva Bajaj.
Om Shanti Om Season 2 Auditions:
The show had already made its mark so people will be keen to participate in the show this year. The auditions will be public as the previous year in various cities. This time you can register online for the auditions of the show and after completion of registration, candidates will be chosen by the judges and the expert executive team.
The devotional music concept is the main concept of the show. 14 contemporary devotional song artists will be chosen. Further details of the audition will be soon disclosed as soon as it releases along with the audition dates and the venues. Just stay in touch for more details regarding Om Shanti Om season 2.
Kolkata
Date: TBA
Venue: TBA
Delhi
Date: TBA
Venue: TBA
Mumbai
Date: TBA
Venue: TBA
The Theme of the Show:
The main reason that the show trended too much on social media is its unique concept. People are watching something miraculous like that for the very first time in television history. You will listen to 14 people with their devotional voices mixed with a touch of westernization. They will surely impress the whole country and its people. The audition will be done on Delhi, Kolkata, Mumbai, Chennai, Lucknow, Chandigarh, etc.
Judges:
There is a panel of very talented and highly respected judges in the show.
Baba Ramdev, the Yog Guru as the Maha Judge
Sonakshi Sinha
Kanika Kapoor
Shekhar Ravjiani