This amazing show is organized by Dellywood. It is the vision of the owner of Dellywood Vinod Ahlawat and Onam Ahlawat. The show, Mr. & Miss India has a great reputation of bringing out some of the best talents in the country. The winners of the show will have the opportunity to represent India in an international pageant other than that all the contestants will get fame and get a chance to enter Bollywood or fashion industry.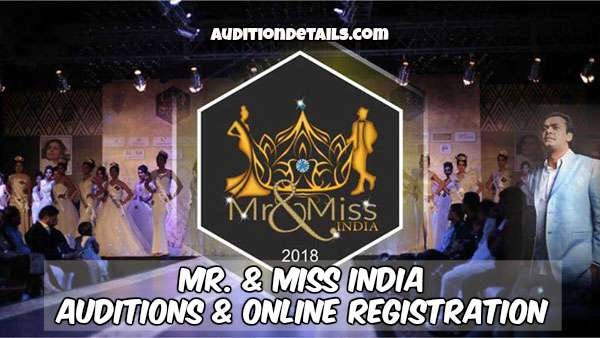 Criteria of Eligibility:
There are some criteria which need to be followed to get entry in the show.
The age of both male and female candidates must be over 17 years.
The height of male candidate must be 5 feet and 8 inches whereas the height of the female candidates must be 5 feet 5 inches.
The candidate must not be married.
The candidate must be a citizen of India and must have a valid India passport to prove the citizenship.
The documents which are needed to participate in the show are passport. School leaving certificate, birth certificate, driving licence, aadhaar card, etc. for the proof of age and birth.
Mr. & Miss India Online Registration Process:
The registration process for the show is online.
You need to visit the official website of Dellywood for the registration or you can follow the link dellywood.in to get registered.
You will see a registration form at your screen where you have to enter all the details correctly.
Then you will get the option of uploading your image. You will get two options one for uploading half length photo and one for uploading full length photo.
The size of the photo must not be over 2 MB and the format of the image must be gif, jpg, or jpeg.
After all done check the form correctly for any mistake.
Now you are all done. Just hit the submit button to get registered for the audition.
If you are shortlisted, then you have to pay a fee of INR 1000 for registration and audition charge.
There will be three rounds in the audition, Introduction, Walk, and Talent. For more details, you can call 7011491243 or 9599111186 between 11 am to 5 pm. So, if you think you have the talent to become the next Mr. & Miss India, don't waste time in thinking and register for the show. Stay tuned with us for more updates on the show.
Audition – Date & Venue of Mr. & Miss India 2018:
Kolkata
Date: TBA
Venue: TBA
Delhi
Date: TBA
Venue: TBA
Mumbai
Date: TBA
Venue: TBA