Sa Re Ga Ma Pa L'il champ is calling the youngest generation of India to showcase their talent leading the path of success. Sa Re Ga Ma has been a revolution of finding the most exquisite singing talent ever. This show is very prestigious as it is judged by many popular singers and artists from all over Bollywood and also telecasted on Zee channel. The Sa Re Ga Ma Pa has been a massive success and its L'il Champs version is no different. It has helped to uplift the singing career of a lot of budding and talented kids with splendor fame, money, recognition and love from the audiences.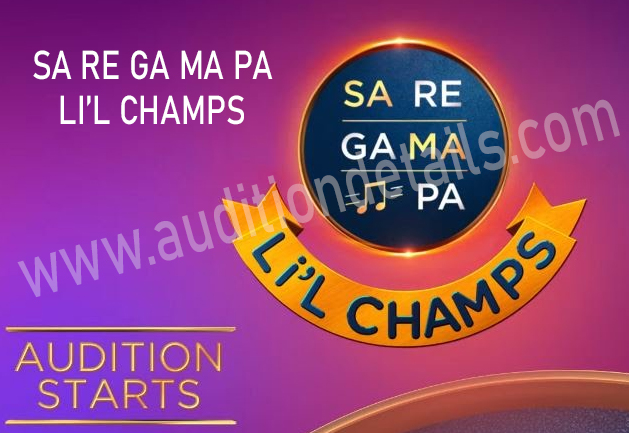 The Sa Re Ga Ma pa L'il champions auditions are starting soon and below is the way to register!
Eligibility Requirements
–     Participant's age must be from 5 to 14 years only
–     You must be an Indian citizen.
–     The children should be accompanied by their parents or any guardian
–     Make sure your child is physically and mentally fit to take part in the competition.
–     You must have documents or valid proof for your age, address and identity otherwise consequences of direct disqualification can take place.
Sa Re Ga Ma Pa L'il Champs 2021 Audition
Step 1: Go to the official site of Sa Re Ga Ma Pa Lil champs.
Step 2: Register your child by filling out the form with necessary details like photographs, name, age,          address, parents identity, etc.
Step 3: Attach a short clip or audio of singing. Make sure to avoid any tampering, editing or back vocals in the audio for authenticity purposes
Step 4: On getting selected for further rounds, you officially get a confirmation of the same on your phone number or email address so make sure the email id and the phone number given are correct.
Step 5: You and your valid documents should reach the given venue for  audition before time to avoid any chance of missing out.
Note that – Auditions are generally arranged in schools, universities or auditoriums so you won't have a problem locating it. For grand auditions, contestants are generally called to Mumbai.
Step 6: After selection in auditions several further rounds are conducted where judges and audiences on higher-level see your performance and make a call.
This platform has made careers of many and if your child has the perfect singing skills, be it any language then no one can stop him/her from acing it! The date of the 2021 season premiere is not out yet, but expect them anytime soon as registrations and auditions are soon to begin.