One of the most trending singing battles in India is back again. You thought right. We are talking about Indian Idol. This year the show will be in its 10th season. This is a big opportunity for the upcoming singers. There are a lot of singing competitions now in various channels but no one can touch the intensity of Sony TV's Indian Idol.
You will see a lot of things in this show other than singing like drama, comedy, emotions, and music. If you think, you have the potential to be the next Indian Idol, you are more than welcome.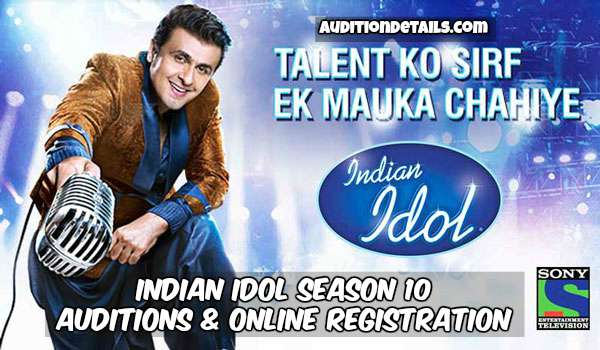 The registration and audition date has not been yet announced but it will be updated as soon as it gets released on the official website. We will be giving here the full information on how to apply for the show Indian Idol Season 10.
First of all, you need to know that the registration must be done online as there is no offline mode for registration.
Eligibility Criteria for Participation:
The age of the candidate must be between 16 to 30 years.
The candidate must be a citizen of India.
Original documents of the candidate are needed for the validation of his identity and age.
Indian Idol Season 10 Registration Process:
First, you need to visit the official website for the show on Sony TV.
There, you will get the link of registering to Indian Idol Season 10.
Click on the link and you will see the registration form.
You need to provide all correct information there to register as a candidate.
You need to upload a song sung in your voice.
After that click the submission button and you are done.
If the show officials find you appropriate, you will get a message or call from them.
Indian Idol Season 10 Judges of the Show:
Previous year, the judges of the show were Anu Malik, Sonu Nigam, and Farah Khan. This year, there will be Anu Malik and Sonu Nigam but as the third judge, it is speculated that the highly talented Arijit Singh will be there. He is one of the most famous singers nowadays let's see if this happens in real or not as this will certainly make the show more exciting.
Indian Idol Season 10 Auditions :
The audition will be done on places like Delhi, Chennai, Mumbai, Kolkata, Jaipur, Chandigarh, Bhopal, Lucknow, and Bengaluru. Follow your dreams and register for the show.
Date
City
Venue
1st May 2018
Jaipur Audition
Apex Institute Of Management & Science College, Sector-5, VT Road, Mansarovar, Jaipur, Rajasthan 302020
3rd May 2018
Lucknow Audition
The Millennium School, F Block, South City, Rae Bareli Road, Lucknow, Uttar Pradesh 206010
5th May 2018
Guwahati Audition
Nerim Group Of Institutions, Padma Nath sarmah Bhawan, Joyanagar, Khanapara, Guwahati, Assam 781023
7th May 2018
Bhubaneshwar Audition
Kalinga Institute of Social Sciences

Campus 10, K.I.S.S. Patia Bhubaneswar, Odisha – 751024

9th May 2018
Dehradun Audition
Universal Academy

Lane no: C-22 , Turner Road, Clement Town Dehradun, Uttarakhand – 248001

11th May 2018
Chandigarh Audition
Gurukul Global School

Gurukul Global School, Adjoining Police Station, Manimajra, Near IT Park, Chandigarh, 160101

13th May 2018
Kolkata Audition
To be announced soon
16th May 2018
Hyderabad Audition
To be announced soon
23rd May 2018
Indore
Standard Public School
Opp. Bilawali Tank, Khandwa Road, Limbodi Indore – 452017
27th May 2018
Mumbai
St. Arnold's High School & Junior College
Mahakali Caves Road, Andheri (E), Mumbai – 40009330th May'18ItanagarDorjee Khandu State Convention Centre
IG Park, Itanagar, Arunachal Pradesh – 791111
30th May 2018
Itanagar
Dorjee Khandu State Convention Centre
IG Park, Itanagar, Arunachal Pradesh – 791111
Stay tuned for latest updates about the auditions date and venue for Indian Idol Season 10.