India is a country where we can see a lot of reality shows on almost every channel. It can be anything dancing, singing, or acting. But one thing that is there in these reality shows is that kids got chance to perform in many of them. We all know that kids can do the best dramebaazi, so, Zee TV brought the idea to reality and created an amazing acting reality TV show for kids, India's Best Dramebaaz. After the successful two season, the show is back again this year with its third installment. Swasti Nitya from Bihar won the second season of the show. So, if you think that your kid is a dramebaaz and he can win the show you are most welcome to join the show. The registration and the audition for the show will start very soon.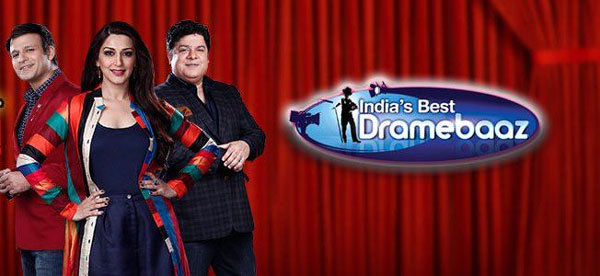 India's Best Dramebaaz Season 3 Host & Judges:
The judges for both the season of the show were Vivek Oberoi, Sonali Bendre, and Anurag Basu. They are pretty much loved by all the fans so it is said that the trio will be seen judging the show again in its 3rd season. The host for the first season were Ragini Khanna and Ritvik Dhanjani but in the second season Ragini was replaced and the hosts were Ritvik Dhanjani and Ravi Dubey. Now, Ravi Dubey is this year hosting one other show Entertainment Ki Raat, so he may be replaced.
India's Best Dramebaaz Season 3 Registration Process:
There is both online and offline process for registration and audition. For the online process, you have to follow certain steps which are described below.
First of all, you have to visit the official website for registration of Zee TV shows, ozee.com on your PC or other than that you can just install the OZEE app from the Google Play to your smartphone. To register log on to :- www.zee5.com/ibd
You will get the option of Online registration for India's Best Dramebaaz season 3.
You have to enter all your details correctly over there.
Now you will get the option for uploading the audition video, upload the audition video of your child there.
Now when you will reach the bottom, you will see I agree all the Terms and Conditions and a box next to it. Tick the box.
You are all set. Now submit the form.
If the officials find your kid worthy, they will contact you.
India's Best Dramebaaz Season 3 Audition:
The audition dates and venues for India's Best Dramebaaz 2018 is listed below, so prepare your child for India's Best Dramebaaz auditions. The entry will be on first come first serve basis for first 1000 Participants or till 2 pm. Entry time for auditions is between 9 AM to 2 PM.
Pune Audition
Date: 15/04/18
Venue: Vishwakarma Institute Of Technology, Pune 666,Upper Indiranagar, Bibvewadi, Pune, Maharashtra-411037.
Jammu Audition
Date: 20/04/18
Venue: Mount Litera Zee School, Jammu Near J&K Bank, Anand Nagar, Bohri, Jammu – 180002 (Jammu & Kashmir)
Indore Audition
Date: 21/04/18
Venue: Annie Besant School, Indore 48 – Precanco Colony, Annapurna Road, Indore-452009 (M.P.)
Guwahati Audition
Date: 22/04/18
Venue: Nerim Group Of Institution, Guwahati Joyanagar, Khanapara, Guwahati, Assam 781022
Varanasi Audition (Entry basis registration only)
Date: 23/04/18
Venue: Mount Litera Zee School, Varanasi SH 98, Khusipur, Uttar Pradesh 221011
Ranchi Audition
Date: 24/04/18
Venue: Vivekanand Vidya Mandir Ranchi Sec 2, Hec Colony, Sahid Maidan, Dhurwa, Ranchi, Jharkhand 834004
Lucknow Audition
Date: 25/04/18
Venue: Avadh Collegiate Lucknow Vikram Nagar, Para, Hardoi Road, Lucknow-226011
Patna Audition
Date: 26/04/18
Venue: Litera Valley School, Patna Naya Tola,Bhagwat Nagar, Kumhrar, Patna – 800026
Bhopal Audition
Date: 27/04/18
Venue: Road, Near Bhadbhada Bridge, Bhopal, Madhya Pradesh 462044 Road, Near Bhadbhada Bridge, Bhopal, Madhya Pradesh 462044
Kolkata Audition
Date: 29/04/18
Venue: La Martiniere School for Boys Martin Block 11 Dr. U. N. Brahmachari Street,(Loudon Street) Kolkata – 700017
Amritsar & Jaipur Audition
Date: 02/05/18
Venue: ZEE STUDIO, JAIPUR Behind cdos, Tonk Road, Sitapura Industrial Area, Sitapura, Jaipur, Rajasthan 302033
Chandigarh & Dehradun Audition
Date: 04/05/18
Venue: St Anne's School, Dehradun Nehru Colony, Dharampur, Dehradun, Uttarakhand – 248001
Delhi Audition
Date: 06/05/18
Venue: TBA
Bangalore Audition
Date: 08/05/18
Venue: Mount Litera Zee School, Bangalore #9, 1st Main, Ramanna Garden, Ramchandrapura, Vidyaranyapura, Bangalore – 560097
Nagpur & Ahmedabad Audition
Date: 10/05/18
Venue: Central Institute Of Business Management Research & Development, Airport Road, Somalwada Square, Wardha Road, Near NIT ground, Pawanbhumi, Nagpur, Maharashtra 440025
Mumbai Audition
Date: 13/05/18
Venue: TBA
Kids from 5 to 13 years of age can take part in the audition which will be held at Dehradun, Patna, Ranchi, Kolkata, Lucknow, Jaipur, Amritsar, Bhopal, Nagpur, Delhi, Ahmedabad, Chandigarh, and Mumbai.