Femina Miss India, organized by Times Group, is the most prestigious and biggest beauty pageant in the country. The contest is the stepping stone for young girls wanting to make a career in the glamour industry.
The winner of the Miss India contest represents India at Miss World while the runner up represents India at Miss Grand International. Celebrities such as Lara Dutta and Priyanka Chopra have been erstwhile winners of the Miss India contest.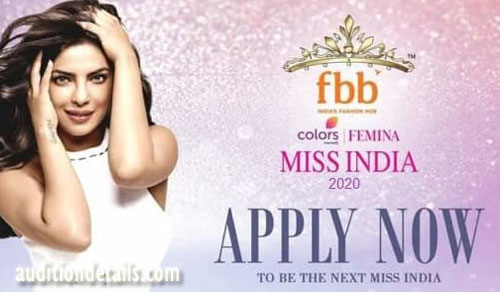 Eligibility:
All unmarried girls between the age of 18 to 27 as of 31st December 2021 are eligible to apply for the contest. The minimum height requirement to participate is 5' 5''. Unmarried does not include girls who are engaged.
The candidate should be an Indian national and must hold proof of the same. Indian passport holders/Overseas Indian Citizens are also eligible to apply.
Age and birth proof document such as a birth certificate, passport, driving license, or school leaving certificate is mandatory.
Registration:
To fill the online registration form, the candidate needs to visit the official website of Miss India (2020-21) – https://beautypageants.indiatimes.com/missdivaform.cms
The candidate needs to fill in her details such as name, age, height, birth date, mobile number, current city, birth city, audition city, marital status, email id, passport details, etc. The candidate also needs to upload her photographs shot at various angles such as close up, mid-shot, and full length. If the form is selected, the candidate is contacted for auditions.
Audition Dates and Venues:
There are four zones, and the winner of each and every zone will come to Mumbai for the final auditions. The dates and venues are yet to be decided. The cities where the auditions would take place are as follows.
East zone – Raipur, Ranchi, Kolkata, Bhubaneshwar, Patna and Guwahati.
West Zone – Pune, Goa, Mumbai, Jaipur and Ahmedabad
North Zone – Chandigarh, Amritsar, Lucknow, Kangra, Dehradun, Jammu, Delhi, Gurugram and Noida.
South Zone – Chennai, Hyderabad, Bengaluru, Kochi, and Vishakapatnam.