Bigg Boss is a well-known television reality game show which eventually came up to platforms like VOOT and other OTT platforms today.  Since it's episode one, it has acquired a major fan base with time, thus it was translated and introduced into seven different languages of India to reach out to a much larger audience.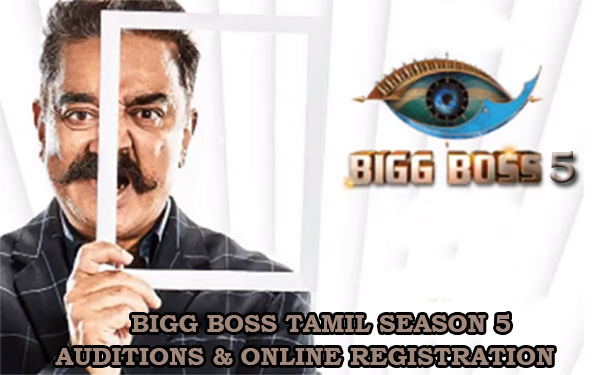 After the huge success of the 1st Tamil season, the makers of Bigg Boss kept it going with the same format as the previous ones. The housemates have to play along with challenges and survive till the last. Though for a major change, this time the candidates will be a mix of Tamil celebrities and commoners as well. They will have to go through proper registrations and audition processes and rounds to qualify.
In the BiggBoss Tamil season 1 it was the 1st time a super star like Kamal Hassan was hosting a reality show. He has been continuing his legacy and will still be the host for the 5th consecutive season. The format is known to select mostly celebrities as contestants, but for the 1st time in 2021 it can be open for the commoners as well. So, in case you get this opportunity, here is a complete guide for registrations.
Bigg Boss Tamil registrations will be opened a couple of months prior to the show. All the registrations will be analyzed and filtered out and then screened on the basis of their 3-minute audition video. Before knowing how to apply for the game, one should be eligible to register and pass all the given demands below –
Eligibility criteria
Indian citizen, with proper citizenship proof.
Adult (18+) with no criminal records.
Proven, healthy mental and physical condition.
Should be well versed with Tamil language
Having a large number of followers and social media reach will always give you an upper edge.
Bigg Boss Tamil Registration process 
Download the VOOT app from play store or visit the VOOT website www.voot.com/BiggBoss to register.
Search for Bigg Boss Tamil registration forms which will be on your screens, fill it carefully with all the valid details.
Attach and Upload your best audition videos of not more than 3 minutes/180 seconds in the provided section. Make sure that the video is within 50 MB.
Go through the declaration and policies carefully and then click "I agree".
Go through your form details again. Once you are sure with its finalization, submit your registration form.
Bigg Boss Tamil team will reach to you through messages and emails for further selection updates.
The introductory audition video you submit plays the most important role in selection. We reckon you give your best in those three minutes and keep the video within 50 MB. Showcase all your main skills wisely and do it in a crisp way. Try to introduce yourself in the shortest but most effective and attractive way. If your audition video gets selected, you will have a chance to appear in the nation's most watched reality show franchise.