Dhee Championship has been earmarked as one of the most famous dance reality shows in South Indian Industry. Telecasted on ETV India, the show has completed its 11 successful seasons and is all set to begin its 12th season with higher excitements. The show which started its first season with the superstars like Prabhudeva has gained a huge audience in the Telugu base specially. The 12th season is all set to be hosted by Pradeep Machiraju.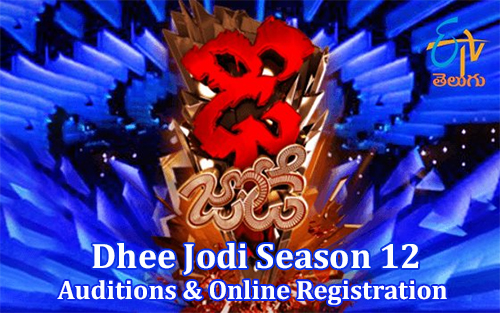 The team leaders would be Sudigali Sudheer,Varshini Sounderajan, Hyper Aadi and Rashmi Gautam. The Judges for this season are Master Shekhar, Poorna and Priyamani. This Dance reality show gives the perfect opportunity and exposure to all the dancing aspirants. If you think you have got that dancing ability, follow the following registration and audition details to be a part of the Dhee Jodi special season 12.
Eligibility Requirements
The Candidate should be an Indian Citizen and should hold a proof of nationality like Aadhar, PAN or License.
The Candidate should be fit physically and mentally.
There should be no criminal records against the candidate.
Documents Required
Age Verifying Document like Birth Certificate.
Address Proof (Aadhar, License)
Medical Certificate of being completely fine.
Nationality Proof (Aadhar, PAN, License, Passport, Voter ID)
Most recent passport-size image.
How to Register Online for Dhee Jodi 12?
The Candidates are required to visit ETV's official site – www.etv.co.in/showsentitys/home/55 and browse through the registration link of the Dhee Jodi season 12.
Go through the terms and conditions of the show and if satisfied, process further with filing the registration form.
The Form will have to be filled with the personal details and information. Make sure you fill every information accurately.
Then you have to attach and upload a clear image of yours and a short video of your dancing skills.
Once done, recheck and go through the form again to check whether you have missed anything or have filled any information incorrectly.
Once you are sure, Submit the form!
The Officials will judge your portfolio and your short video of dancing skills. On the basis of the same, you will be selected and notified by the show officials if you are taken forward.
List of Dhee Jodi Winners of All Seasons
| | | |
| --- | --- | --- |
| Season | Winner | Winner's Choreographer |
| 1 | Harinath Reddy | Nobel Master |
| 2 | Prudvi | Ganesh Master |
| 3 | Satya | Raghu Master |
| 4 (Ladies Special) | Bhavya | Reetu Master |
| 5 (Jodi Special) | Prasad & Anusha | Sekhar |
| 6 | Anshu | Suchin Master |
| 7 (Juniors-1) | Varshini | Bhushan Master |
| 8 (Juniors-2) | Sivamani | Yashwanth Master |
| 9 (Jodi Special) | Sanketh & Priyanka | Yashwanth Master |
| 10 | Raju | Chitti Master |
| 11 (Jodi Special) | Mahesh & Ritu | Prasanth Master |
| 12 | To Be Announced | To Be Announced |
The first 11 seasons have had some of the most exceptional talents. The 12th season of Dhee Championship is going to be another Jodi special season where the best Dancing Jodi will earn the title. Say tuned with us to get more details on Dhee Jodi special season 12.