One of the most successful singing reality shows in Indian television is Indian Idol. The show is in its 10th season now. The grand finale is supposed to be in the month of October this year. Just after the end of the 10th Season, people will be queuing up to participate in the 11th season of the show.
Just like this season, it is heard that Anu Malik will be judging the show next year too. The rest two judges are not yet decided. Sonu Nigam may come to contention. For the people, who don't know the complete process, we are describing it for your help. There is an offline process where you have can reach and register by visiting the venue of the audition. But other than that, there is the easy way, which is the online process to register for the show. Details are mentioned below: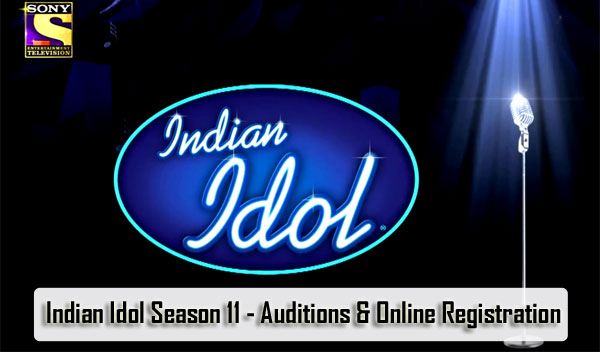 Online Application process for Indian Idol Season 11 2019:
The participant has to download the sonyliv app first.
After that, they have to click on the banner INDIAN IDOL JUMP THE QUEUE AUDITIONS 2019.
You will be redirected to the playstore after clicking that for downloading the Smule app.
Download the Smule app to your device and Register on it.
After completing the registration, click on INDIAN IDOL JUMP THE QUEUE banner.
Now, you must choose a song from the playlist, record and submit the song in your voice.
After the submission, you will get an option of pasting the link at Sonyliv registration page.
Paste the link and fill up the registration form with all appropriate details.
You will be successfully registered to Indian Idol season 11.
Things to Keep in Mind:
The age of the contestant must be between 15 to 30 years.
The physical and mental health of the contestant must be okay and no criminal record must be in his name.
The documents which are necessary are the passport, PAN card, ration card, aadhaar card, voter id card, etc.
The audition song must be sung by the contestant with full voice clarity. No other members are allowed in the video other than the participant.
Check out more details on the show by following the link https://prodindianidol.sonyliv.com/IndianIdolseason10onlineTCs.pdf.
Audition Venues Indian Idol Season 11:
The usual audition venues for the show are Jaipur, Lucknow, Guwahati, Bhubaneswar, Dehradun, Chandigarh, Kolkata, Hyderabad, Delhi, Indore, and Mumbai. Right now, only the registration date for 2019 is declared, venue details are undecided yet but we will update them to our website as soon as they get announced officially. Till then stay tuned with us.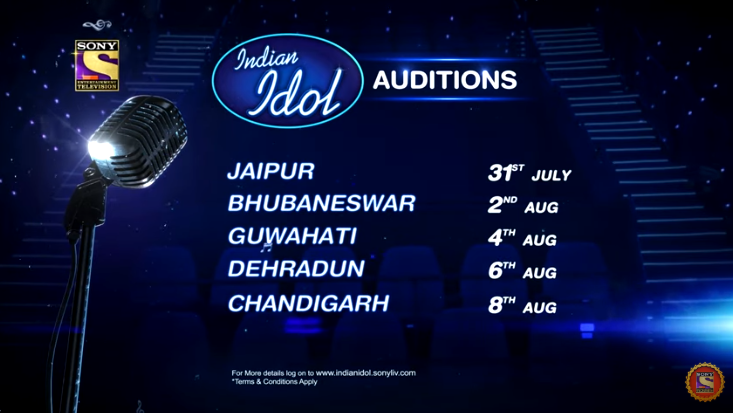 Jaipur City Audition
Date: 31st July 2019
Venue: MAHARISHI ARVIND INSTITUTE OF ENGINEERING & TECHNOLOGY, Sector-7, Madhyam Marg, Shipra Path, Barh Devariya, Mansarovar, Jaipur, Rajasthan 302020.
Time: 8:00 AM
Bhubaneshwar City Audition
Date: 2nd August 2019
Venue: DOON INTERNATIONAL SCHOOL, Near AIIMS, Sijua, Bhubaneshwar, Odisha – 751019
Time: 8:00 AM
Guwahati City Audition
Date: 4th August 2019
Venue: Nerim Group Of Institutions – Padma Nath Sarmah Bhavan, Tripura Road, Jaya Nagar, Khanapara, Guwahati. Assam- 781022
Dehradun City Audition
Date: 6th August 2019
Venue: Shikshankur The Global School, Haridwar Bypass Road, Near ISBT, Morowala, Niranjanpur, Dehradun, Uttarakhand – 248171
Chandigarh City Audition
Date: 8th August 2019
Venue: Gian Jyoti Institute of Management and Tehnology, Sector – 54, Phase-2, Mohali, Chandigarh, 160055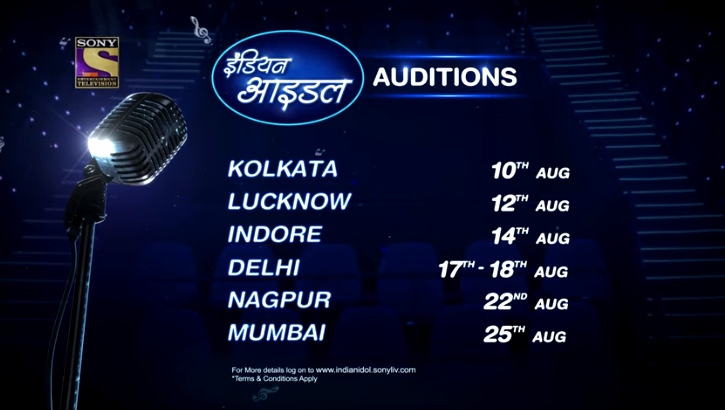 Kolkata City Audition
Date: 10th August 2019
Venue: Amity University, Major Arterial Road (South-East), Action Area-II, Newtown, Kolkata, West Bengal, 700135
Indore City Audition
Date: 14th August 2019
Venue: Adarsh Sishu Vihar Higher Secondary School, , 1398/1, Bicholi Hapsi Road, Shiv Shakti Nagar,  Indore, Madhya Pradesh – 452016.
Delhi City Audition
Date: 17th – 18th August 2019
Venue: Sri Venkateshwar International School, Sector 18A, Dwarka, New Delhi, Delhi – 110075.
Nagpur City Audition
Date: 22nd August 2019
Venue: Kamla Nehru College, Budhawar Bazar Road, Azamshah Layout, Nagpur, Maharashtra – 440009.
Mumbai City Audition
Date: 25th August 2019
Venue: Nahar International School, Chandivali, Andheri East.
Stay tuned with us, we will soon update audition venues as soon as the channel revealed.