Sony TV's iconic singing reality show 'Indian idol: 12' has entitled to Pawandeep Ranjan the most deserved winner?
Indian Idol Season 12 is currently gaining high TRPs and we all know the reason. The show has always been loved by the audience because of the talented singers participated in the show and compete with each other to win the trophy and title of Indian Idol Winner.
This year, the show is being judged by a panel of judgesv- Himesh Reshmiya, Vishal Dadlani, Neha Kakkar and hosted by none other than chuckle-some Aditya Narayana.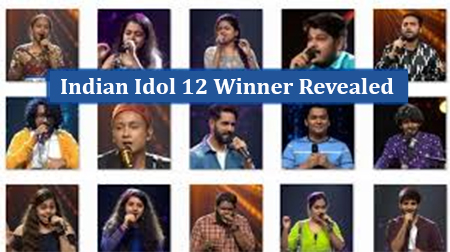 Indial Idol Season 12 Grand Finale
The grand finale of Indian Idol 12 will be held somewhere in April. Currently, the makers have not declared the exact date for the finale. However, the audience is keen to know who will be the top finalists for Indian Idol 12 and as per our sources, Shanmukh Priya, Mohammad Danish, Ashish Kulkarni and Pawandeep Ranjan will be the top four finalists of the show.
Indian Idol 12 Winner Name (2021) & Prize Money
From the top 4 finalists challenging Mohammad Danish, spectacular Shanmukh Priya and excellent Ashish Kulkarni, Pawandeep bagged the trophy by his stealing performances. He received 25 lakhs prize money and a contract with the biggest music company in the country.
The 21 years old versatile singer hails from Champwat, Uttarakhand. The smiling humble lad from an obscure village is now an idol himself for budding singers who want to nail down their carrier as a singer. Pawandeep inherits the singing talent from his father 'Suresh Ranjan' a renowned Kumauni folk singer and he proved hard work and dedication can achieve the hardest aspiration.
Since the beginning, he won the heart with his soothing rendition and subsequently raised the bar with every performance. His affable nature and soulful voice left the audience and mentors irresistible to sing his praise.
Apart from singing, Pawandeep is master in playing different instruments like keyboard, guitar, drums, table etc.
The graceful Shaan adored him as an impressive performer and artist of the future genres.
Musical maestro Anu Mallick awe by his performance couldn't stop himself to hurtle to the stage to lift and embrace the singer. He said ''I have never seen such an astonishing performance ever of a boy at such a young age. I felt like I am listening to some profound singer. You have a great future lying ahead for you Pawandeep''.
Well, do you want Pawandeep to become the winner of Indian Idol 12? Who do you want to be the winner?
Share with us in the comments below & stay tuned with us for more latest updates.