RuPaul's Drag Race is a reality television show that follows the quest for "America's next drag superstar."
Each week, the competitors are given lip-synching matches to battle out who the best 'Drag Queen' there is among the rest.
RuPaul Andrei Charles, who was named after the show, acts as the host, head judge, and mentor throughout the series.
Season 1 Winner: BeBe Zahara Benet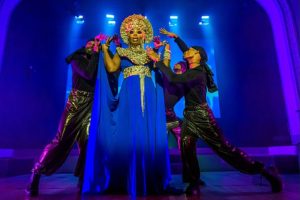 Real Name: Nea Marshall Kudi Ngwa
Maxi Challenges Won: 2
Mini Challenges Won: 0
Year: 2009
After participating in the inaugural season of the show, she was crowned the first "America's Next Drag Superstar" after defeating her fellow contestants to become the first drag race contestant to win the show (in drag race herstory, as Ru would say!).
BeBe was invited to return to 'All Stars 3' before 2018. Despite her reservations about returning to the show, she accepted the invitation and was introduced to the show's now-massive audience.
BeBe and her competitor Shangela made it to the last episode and finished third/4th overall.
"Being BeBe," a feature-length documentary on Zahara, has been in the works since 2006.
The documentary chronicled her path from her early days in Minneapolis to winning Season 1, through her inner challenges and finally participating on 'All Stars 3'.
BeBe was only starting at the Gay 90's club when filmmaker Emily Branham met her.
BeBe Zahara Benet is currently based in Minneapolis, where she continues to tour the world and produce her shows and performances, all influenced by her African culture and fame from drag race.
Season 2 Winner: Tyra Sanchez
Real Name: James William Ross IV
Maxi Challenges Won: 3
Mini Challenges Won: 1
Year: 2010
Tyra Sanchez is a drag performer and make-up artist who won Season 2 of RuPaul's Drag Race.
Sanchez earned the titles The 'Other Tyra' and The 'New Tyra' during his stint on Drag Race, as he spoke openly about his homelessness and personal problems before competing for the show.
Despite his acerbic nature, Tyra's elegant old-school drag style made him a favorite of the judges, which garnered him the scorn of his fellow contenders.
Tyra stated on social media back in 2020 that he's leaving the RuPaul's Drag Race series.
He's also saying goodbye to his 'Tyra Sanchez' alter ego and prefers to be addressed as James Ross, using He/Him pronouns, which some drag race fans will be sad about.
Season 3 Winner: Raja Gemini
Real Name: Sutan Ibrahim Karim Amrullah
Maxie Challenges Won: 3
Mini Challenges Won: 2
Year: 2011
Raja Gemini, also known as Raja, is the stage name of Sutan Amrull, a drag queen, make-up artist, and model best known for her participation in the reality TV show 'America's Next Top Model' and as the Season 3 winner of RuPaul's Drag Race;
during the competition, Raja quickly drew attention with her high fashion looks and signature catwalk.
Raja has a drag daughter named Rhea Litré with Season 10's Mayhem Miller. '
She has been adopting several drag children since winning Season 3 of Ru Paul's drag race, including Anderson Brooks, Thierry Meissel, Illuminati Princess, and Bionka Simone.
Season 4 Winner: Sharon Needles
Real Name: Aaron Coady
Maxi Challenges Won: 4
Mini Challenges Won: 0
Year: 2012
Sharon Needles is a drag queen, performer, and music artist who won RuPaul's Drag Race season 4 back in 2012.
Throughout the season, Sharon won drag race fans and judges over with her eerie aesthetic, quick wit, and humble demeanor.
She surprised the judges with her runway performances week after week, eventually finishing in the Top 3 alongside Phi Phi O'Hara and Chad Michaels.
Sharon Needles was crowned the 4th "America's Next Drag Superstar" at the "RuPaul's Drag Race" Season 4 "Reunion" special on April 30, 2012.
The three performed in the music video for RuPaul's song "Glamazon."
After the show's events, Needles had a long-term romance with Alaska, a fellow drag queen.
Despite her breakup with Alaska, she was engaged to Chad O'Connell, an SFX make-up artist, last July 2020.
Season 5 Winner: Jinkx Monsoon
Real Name: Jerick Hoffer
Maxi Challenges Won: 2
Mini Challenges Won: 1
Year: 2013
Jinkx Monsoon is a performer, actor, and musician who won season 5 of RuPaul's Drag Race.
Jinkx Monsoon was named one of 14 drag queens competing on the fifth season of the show back in November 2012.
After seeing Sharon Needles on Season 4, she decided to audition. Monsoon won the primary tasks for the episodes "Drama Queens" and "Snatch Game," mimicking Edith Bouvier Beale, most known for her role in the documentary "Grey Gardens."
Monsoon also participated in theater acting with Richard Andriessen, a.k.a. Major Scales, in the musical "The Vaudevillians," a 1920s revival performance.
They performed at the Laurie Beechman Theater on Broadway in New York City after winning season 5.
Recently, Jinkx began her musical career and has become a voice actor for the character Emerald in the hit show "Steven Universe."
As a drag race winner, jinx was of the biggest underdogs in drag race history to win the drag race franchise.
 Season 6 Winner: Bianca Del Rio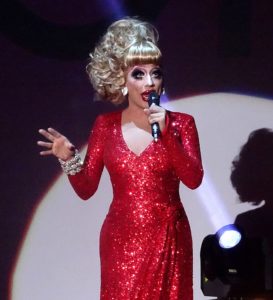 Real Name: Roy Rene Haylock
Maxi Challenges Won: 3
Mini Challenges Won: 1
Year: 2014
Bianca Del Rio is widely regarded as the best out of the winners in the show's history and among the drag race legends, a fan favorite throughout and after her season.
After winning her season, Bianca Del Rio began touring as a solo performer and airing in shows with other former competitors.
She starred in the films "Hurricane Bianca" and "Hurricane Bianca 2: From Russia with Hate," as well as writing a book titled "Blame It On Bianca" and releasing a make-up remover called "The Bianca Remover."
Season 7 Winner: Violet Chachki
Real Name: Paul Jason Dardo
Maxi Challenges Won: 3
Mini Challenges Won: 1
Year: 2015
Violet Chacki is the season 7 winner of the popular tv series RuPaul's Drag Race, as well as a model and content creator.
Chachki became even more renowned after winning her season, touring the world doing aerial and burlesque shows, modeling, and collaborating with Dita Von Teese, Prada, Moschino, Vogue, and others.
Violet was often picked last for team challenges because of her arrogant attitude, which was disliked by the other Season 7 candidates.
She struggled with acting and comedic challenges, but she was consistently on the verge of winning fashion and performative challenges.
Chachki became the seventh crowned "America's Next Drag Superstar" in Episode 14, "Reunited," thanks to her eye-catching looks and unwavering confidence.
 Season 8 Winner: Bob The Drag Queen
Real Name: Caldwell Tidicue
Maxi Challenges Won: 3
Mini Challenges Won: 1
Year: 2016
Bob the Drag Queen, is the 8th champion of RuPaul's Drag Race, aside from being a stand-out performer and a comedian.
Bob released dance singles after winning the season, co-hosted a podcast with Monét X Change called Sibling Rivalry, and had her comedy special "Suspiciously Large Woman.", cementing his status as comedy queen.
He recently starred in the Netflix film "Cherry Pop," launched the show titled "BOBin' Around" on  WOWPresents+, and filled in for Katya on "The Trixie & Katya Show" as of the 10th episode.
Season 9 Winner: Sasha Velour
Real Name: Alexander "Sasha" Hedges Steinberg
Maxi Challenges Won: 2
Mini Challenges Won: 1
Year: 2017
Shasha Velour is the 9th winner of RuPaul's Drag Race and a visual designer on various platforms on the internet.
Velour's unique style of drag, charisma, clever wit, and astonishing and emotional final lip-sync for the crown performance on Episode 14, "Grand Finale," helped her win the title of "America's Next Drag Superstar,".
Even though she was overlooked on many Season 9 challenges and didn't rack up many challenge wins, she was still considered the frontrunner for the crown.
She is presently a performer and a hostess of Brooklyn's "Nightgowns," where she showcases talent through writing about various concepts and making art.
She also has documentary series about the said show.
Season 10 Winner: Aquaria
Real Name: Giovanni Palandrani
Maxi Challenges Won: 3
Mini Challenges Won: 2
Year: 2018
Aquaria is a drag queen, make-up artist, and performer who won the 10th season of RuPaul's Drag Race and racked up three maxi challenge wins.
Aquaria is a great drag persona and fan favorite and is one of the show's youngest winners at the age of 22; she is also the drag daughter of Season 4 winner Sharon Needles, making them the first drag mother and daughter combination drag race contestants to win.
Aquaria was crowned the 10th "America's Next Drag Superstar" in Episode 14, "Grand Finale," after the finale's lip-sync tournament for the crown twice against Eureka and Kameron Michaels.
She is generally well-received on Instagram as an influencer and a stand-out drag queen in the drag community.
 Season 11 Winner: Yvie Oddly
Real Name: Jovan Bridges
Maxi Challenges Won: 1
Mini Challenges Won: 0
Year: 2019
Jovan Bridges, a drag queen, fashion designer, performer, rapper, and recording artist who won Season 11 of RuPaul's Drag Race, goes by Yvie Oddly's stage.
Yvie identifies herself as a "genuine weirdo" with a style that varies from high-fashion glam to grungy street punk.
She is a magnet for anything that will make the audience laugh.
She is also the only season winner where her drag performance didn't apparently merit more than one maxi challenge win.
Still she was the only queen who beat her fellow queens to the season finale and crown despite this. Either way, she's still among the iconic queens among the former contestants.
Yvie claims that she is continually changing and "looking forward," distinguishing her drag from others.
Yvie's strong track record, unique interpretation of drag, eccentric demeanor, and jaw-dropping lip-sync talents helped her win the title of "America's Next Drag Superstar," defeating Brooke Lynn Hytes, A'keria Chanel Davenport, and Silky Nutmeg Ganache in the finale lip sync battle.
She currently makes videos and drag-related performances to explore her capabilities within different themes and aspects.
She's also a recording artist who released her debut album titled 'Drag Trap' in 2020.
 Seasons 12 Winner: Jaida Essence Hall
Real Name: Jared Johnson
Maxi Challenges Won: 3
Mini Challenges Won: 0
Year: 2020
Jaida is a Milwaukee-based drag queen, make-up artist, and performer who won season 12 of RuPaul's Drag Race.
She had a vigorous spirit throughout her performances, followed by classic fashion sense, favored by judges alike.
Recently, she became a reality television personality and is commonly associated with big names in the industry as a performer such as Rihanna, starring in fashion shows and advertising videos.
Seasons 13 Winner: Symone
Real Name: Reggie Gavin
Maxi Challenges Won: 4
Mini Challenges Won: 0
Year: 2021
Symone is a Los Angeles-based drag queen and the 13th season of RuPaul's Drag Race.
He also had great courage and determination through every challenge thrown at her, such as her runaway dress and performance having implications on Black Lives Matter (BLM) and the likes.
Symone was recently featured on various cover pages for social media articles, attended the Met Gala, 2021 MTV Music Awards, and is an active performer at live music festivals.
RuPaul's Drag Race Season 14 Winner? Who Will it Be?
Seasons 14 Winner: Ongoing
Year: 2022
Its 14th season has already started premiering last January 7, 2022, and various competitive and highly regarded drag queens are a part of it; the winner is yet to be announced as the season is still currently ongoing.
If you can't get enough of RuPaul's Drag Race, don't forget to watch the following spin-offs:
Drag Race UK
Canada's Drag Race
Drag Race All Stars
Drag Race Thailand
And more.