Many ordinary "Wheel of Fortune" contestants have benefited from the wheel's generosity, allowing them to win thousands of dollars and, in exceptional cases, become millionaires.
The Wheel of Fortune game show has been on the air since 1975, making it one of the country's longest-running entertainment shows and a very popular game on TV.
Competitors must solve word problems with the assistance of a giant spinning wheel in order to be eligible for rewards.
Almost everyone is familiar with the show's hosts, Pat Sajak and Vanna White, who have been on the show since it first aired as a nightly syndicated broadcast in 1983.
Considering that around 7,000 episodes have been created since the show's beginning, one would expect a massive number of major prize winners.
There have only been three candidates who have earned more than $1 million in the Wheel of Fortune franchise history.
According to the Gazette Review, all of them have won over the preceding two decades.
The following is the complete list of Wheel of Fortune Million Dollar winners from all seasons.
Wheel Of Fortune Million Dollar 1st Winner: Michelle Loewenstein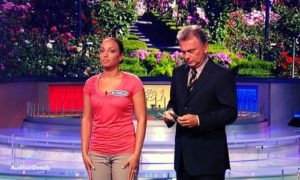 Year – 2008
Prize Money – $1,026,080
Michelle Loewenstein created history in 2008 when she won the incredible prize during the last wheel spin on the game show.
She, of course, figured out the "Leaky Faucet" riddle to become the first million dollar winner.
Loewenstein earned a total of $1,026,080 throughout the program, which included her $1 million rewards as well as the $26,080 she had previously won heading into the final Wheel of Fortune round.
Following her return from her honeymoon, Loewenstein made an appearance on the popular television game program.
For the married competitor, the million-dollar award came at the perfect moment!
What better way for a couple to start off than as millionaires? "I've had a lot of luck," she told the New York Post. "I got engaged on July 7, 2007, and the episode was shot on August 8, 2008."
Michelle Loewenstein held the record for the most money won on Wheel of Fortune for over half a decade.
Wheel Of Fortune Million Dollar 2nd Winner: Autumn Erhard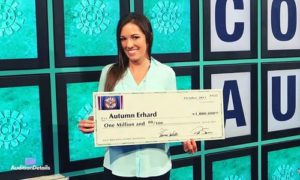 Year – 2013
Prize Money – $1,030,340
Autumn Erhard became the second contestant on Wheel of Fortune to win the $1 million top prize.
"I am completely and utterly stunned," the newly minted millionaire stated.
"I'm trembling. I came here today because I like the game and wanted to have some fun while solving puzzles – I feel as if I'm in a dream!"
Throughout the game, Erhard was the clear winner, winning more than $30,000 in cash and prizes, including vacations to Belize and Arizona on her way to the million dollar win.
Her opponents came in second and third place, respectively, receiving $2,000 and $1,000.
She also brought the "Wild Card" into the bonus round, which allowed her the chance to earn an extra consonant.
Despite the fact that just a few letters were exposed, she breezed through the last problem, "Tough Workout."
Erhard's huge victory occurred during the "Celebrating 30" theme week on Wheel of Fortune, which celebrates the game show's 30th season with competitors who have a "30" in their life.
Because she is 30 years old, she was a part of the week.
Erhard is a sales agent for animal medications based in Laguna Niguel, California.
The University of California, San Diego graduate, was just engaged and intended to win some money for her wedding plans by appearing on Wheel of Fortune.
Joey, her fiancé; Harold, her father; and Francine, her mother, were all on the set when she won the $1 Million Prize.
They were as shocked as she was.
Wheel Of Fortune Million Dollar 3rd Winner: Sarah Manchester
Year – 2014
Prize Money – $1,017,490
A Silver Spring math teacher, Sarah Manchester, became the third participant to win the $1 million grand prize on the famous game show "Wheel of Fortune."
"This is a once-in-a-lifetime opportunity," Manchester said after winning. "I'm simply savoring every second of it!"
Manchester's $1,017,490 prize victory was not simple to get to and pretty nerve wracking.
The game was very tight, with just $6,000 separating first and third place.
Manchester won a vacation to the Dominican Republic after solving the reward problem and then masterfully solving the third toss-up puzzle, "The Pacific Ocean," with just a few letters exposed.
Manchester was so engrossed at the moment heading into the bonus round that she forgot she was competing for a million dollars prize.
When presenter Pat Sajak went through her winnings with her, she said, "Oh, I forgot!"
However, when the bonus puzzle round "Loud Laughter" was presented, there were no issues in finding the correct phrase.
Manchester stated of her winning solution, "I spotted it straight immediately, so I called the letters and was able to solve very simply."
The enormous victory happened during "Teacher's Week" on Wheel of Fortune, which started off the show's 32nd season.
In 2008, with the start of the show's 26th season, the $1 million grand prize wedge was introduced to the Wheel.
The top $100,000 cash reward is replaced with $1 million dollars on the bonus round wheel if a contestant collects the wedge, solves the puzzle, and makes it to the bonus round without going bankrupt.
Michelle Lowenstein won the first $1 million grand prize in October 2008, and Autumn Erhard won the second in May 2013.
Manchester teaches middle school math and coaches the math team at Takoma Park Middle School, where she also went to middle school.
She has a lot of experience completing "Wheel of Fortune" riddles, having grown up watching with her parents and now challenging her own children with cash rewards for each problem they complete before she does.
Manchester was accompanied by her father, Paul, husband, Dan, and children, Alden, and Raina, for the recording of the episode.
"What a way to start the season," host Pat Sajak stated after the victory.
During the show's finale, Sajak questioned the newly minted millionaire sbout whether she had analyzed the likelihood of winning the million dollars as a math instructor, to which she exclaimed, "I judged that the probability was low, but even unusual occurrences happen!"
Wheel Of Fortune Million Dollar 4th Winner: Who will it be?
Year – N/C'
Prize Money – N/C
Since Wheel of Fortune is still broadcasting, it is possible that another million-dollar wedge winner may be announced in the near future.
There are still million dollar wedges up for grabs for future contestants, but as you can see people who rarely win game shows or trivia games, will likely struggle to get their hands on million dollar wedges in the future.
You have to be on point and a well prepared person to make it to win the biggest prize!
However, due to the presence of a coronavirus (COVID-19), the production of new episodes has been temporarily paused until the issue was resolved.
On the other hand, if the world returns to normal, there will be plenty of applicants willing to compete for the next million-dollar reward.
Keep checking back with us for the most up-to-date news and information about the next Wheel Of Fortune Million Dollar Winner.
Did you know that Melissa Joan Hart was the first ever winner of a million dollars on Celebrity Wheel of Fortune?
You can see all of the $1M winners on Celebrity Wheel of Fortune including Melissa Joan Hart and others.