World of Dance is the world's most prestigious dance brand.
What began as a single event in 2008 has grown into a continent-spanning rally of human spirit and monumental dance moves, encompassing a top network TV show on NBC with superstar judges Jennifer Lopez, NE-YO, and Derek Hough.
The brand also features a YouTube network, online magazine articles, live global tours, record labels, artistic brand management companies, and the U-Jam dance fitness program.
Solo and group competitors have a chance to win a million-dollar prize and to establish a name within the entertainment industry; as fierce and talented dancers join and partake in such an event, one might wonder who its winners are; below is a list of all of its champions since season 1 to the recent season 4.
World of Dance Season 1 Winners: Les Twins
Average Score: 98.8
Prize Money: $1 Million
Year: 2017
Members: Laurent Nicolas and Bourgeois Larry Nicolas Bourgeois
The duo may be familiar to you from Beyoncé's music videos and world tours.
Laurent and Larry Nicolas Bourgeois are a hip-hop duo from France.
Their performances on the show only highlighted their incredible potential, and they went on to overcome contemporary dancer Eva Igo from the junior division to become the first-ever 'World of Dance' champions.
Laurent Nicolas and Larry Nicolas Bourgeois are French hip-hop dance twins who astonished the World of Dance judges: Jennifer Lopez, Ne-Yo, and Derek Hough all season with their in-sync isolated motions, self-taught style, and unequaled musicality.
Week after week, the audience continues to erupt in applause due to their performances.
In an unlucky turn of events, Laurent injured his right leg just before the divisional finals, putting the Les Twins' status in the competition on dubious ground.
Laurent danced in a wheelchair beside his brother in the performance that garnered them a standing ovation and the top spot in the Upper Division, propelling them to the finals.
Both gentlemen have grand ambitions for their monetary award and have dabbled in music since winning.
They released a single called 'What Happened,' and said in an interview with Hollywood Life, they said that they would be busy touring and performing in America, stating "We've proven to the world that we're good dancers, but now we must prove to the rest of the world that we are capable of performing for them."
According to their Instagram account, they've performed in nations including Canada and Japan, and they've recently spotted freestyling in the streets of Mumbai and India.
World of Dance Season 2 Winners: The Lab
Average Score: 97.5
Prize Money: $1 Million
Year: 2018
Members: Logan Edra, Ayden Nguyen, Tre De Rego, Kea Peahu, Isidoro Villagra, Destinee Mayares, and unnamed nine other dancers.
For their second season, the West Covina, California group, namely "The Lab," which die-hard fans will remember from World of Dance's first season, returned more robust and better than ever, with five new members.
In season two, their new-and-improved team brought bolder moves, jaw-dropping flips, and elaborate prop work to the stage, earning them first place in the Junior Division following a terrific school-themed performance.
The group has been quite busy since winning the second season.
They did a unique marketing performance for Disney's Mary Poppins Returns at Walt Disney World in Orlando.
Not only that, but they also performed at Union Station in Washington, D.C., the Times Square's New Year's Eve ball drop, The Ellen Show, Nickelodeon, the Mavericks halftime show, and the Rose Bowl for the BTS World Tour.
They've also shown off their skills alongside one of World of Dance judges, Jennifer Lopez, on her 'It's My Party' globe tour. In under three months, they performed in 37 gigs in 33 cities across six nations.
The Lab also coaches seminars and virtual dancing sessions throughout the pandemic.
For their fans, they've also created their merchandise.
They've continued to travel as a group and toured with other musicians, despite not knowing what the future holds.
They want to produce high-end shows, open more 'Labs' worldwide, and provide a forum for other dancers to share their concepts and skills.
World of Dance Season 3 Winners: The Kings
Average Score: 98.88
Prize Money: $1 Million
Year: 2019
Members: Karthik Priyadarshan, Shijin Ramesh, Ritesh Vishwakarma, Mohan Pandey, Chandan Acharya, Sunny Chatterjee, Raja Das, Prem Bhawar, Charles Edward, Pratik Gojare, Hritik Gupta, Pavan Rao, Hardik Rawat, Akshay Varavdekar, Neeraj Vishwakarma.
The Kings were crowned as season 3 Champions back in 2019 and had amazed spectators worldwide with their gravity-defying stunts and unique choreography.
The Indian group's world-bound goals were realized through their performances that had a fruitful conclusion.
Suresh Mukund's, the dance crew's choreographer, has drawn widespread attention and demonstrated superiority as they navigated their challenges at the World of Dance.
They won the main prize thanks to A.R. Rehman's 'Dhakka Laga Bukka,' which received a score of more than 98% overall.
The team has recently been busy with foreign projects like performances and workshop tours.
In India, they're currently discussing brand collaborations. According to reports, a film chronicling their extraordinary journey from the streets to the stage is in the works.
They eventually want to become a global brand with operations in various nations across the globe.
After their global achievement at World of Dance, their choreographer has stated that the team would no longer participate in any competitions because they had already made their dreams into reality.
The dance crew has also settled doing shows rather than entering the competitive field of dance.
World of Dance Season 4 Winners: MDC 3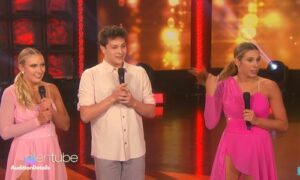 Average Score: 95.7%
Prize Money: $1 Million
Year: 2020
Members: Madison Smith, Diego Pasillas, and Emma Mather
MDC 3 is a three-person contemporary dance company based in Placentia, California.
They usually choreograph duos or groups for this type of dance.
The fact that MDC 3 has three dancers offers them a unique yet flexible potential, as each takes on a certain role through dance.
Shannon Mather, the owner of the Mather Dance Company, founded the modern dance company.
The trio had dance themes not yet explored at such a competition, alongside a vibrant, precise, and smooth choreography they had mastered through sheer hard work and determination.
They were the only act from the Junior Division to get to the finals. MDC 3 set a World of Dance record in the final, becoming the first contemporary dance group to win after three consecutive Hip-Hop victories with an average score of 97.5%.
To top it off, all three members of the MDC 3 are under the age of 18, which is a pretty tremendous feat at such a young age; Diego and Madison are both 17 years old, while Emma, who is 15, is the youngest.
As of recent, they claim to have become locally famous in their hometown of Placentia, California, after winning the World of Dance championship.
They intend to continue performing together, making collaborative music videos, participating in dance event invites, and considering pursuing individual careers.
Mather and Pasillas are still in high school and plans to continue practicing in their studio until they graduate, while Smith has already graduated and, just like the other two, will also pursue dancing.
World of Dance Season 5 Winner? Who Will it Be?
Due to unfortunate circumstances relating to COVID-19, such as heightened restrictions, lack of audience, and lower viewer ratings, World of Dance has been canceled indefinitely by NBC.