After a great success in the previous season, Zee Punjabi is all set to launch Sa Re Ga Ma Pa punjabi again for 2021. This singing reality show rules everyone's heart who loves Punjabi music. Famous Punjabi singing personalities like Jazzy B, Jaidev Kumar and Sonu Kakkar are likely to be the judges of this season. The Musical Legend Gurdas Maan will be the super judge of this singing reality show. It is expected that Tehreen Bakshi will be the host for this season as well.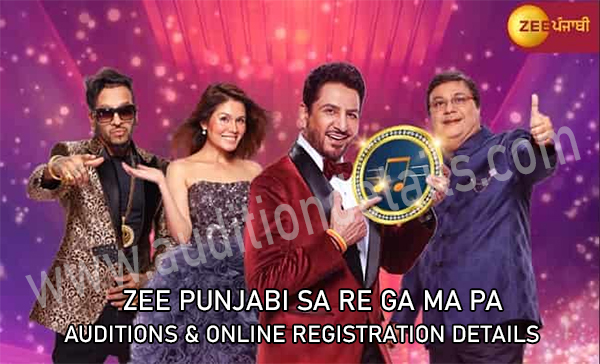 So if you are excited to participate in Zee Punjabi Sa Re Ga Ma Pa 2021 what are you waiting for? Take a look at the following eligibility requirements and steps to register for this amazing show and begin your singing journey!
Eligibility Requirements:
The age of the candidate participating should be 18 or above.
The nationality of the participants should be Indian.
The format of the show is designed for Solo Singers only.
The participant should be fluent in speaking as well as singing in the Punjabi language.
 Zee Punjabi Sa Re Ga Ma Pa 2021 Online Registration Steps
 If you fit in the required eligibility criteria of this singing reality show, follow these simple steps for registration :
Visit the official web page of Zee5.
Swipe the banners which appear on the homepage of Zee 5.
Click on Auditions for Zee Punjabi Sa Re Ga Ma Pa 2021.
A registration form will appear. Fill the required details as per your original documents.
Record and upload the video of your singing as per the rules and regulations mentioned.
Video should not exceed above 3 minutes.
With the ongoing Pandemic situations, there are chances of on-ground auditions in some cities of Punjab.
You may require documents like Adhaar Card/Passport or Driving License/ Voter ID Card/ Pan Card and a photograph in the mentioned format and size.
Fill the registration form as mentioned and adhere to the rules and regulation mentioned.
Any participant who does not fit in the eligibility criteria will be disqualified. Not following rules and regulations while registration will also lead to disqualification.
The selection process will be based on Online Registrations. On-ground auditions depend totally on the situation of the ongoing pandemic. After this round, there will be a judges round. Judges will further select participants for the final audition. The participants who qualify the final audition rounds will shine live on the stage of Zee Punjabi Sa Re Ga Ma Pa 2021.
Stay tuned with your screens as the audition or registration dates will be out anytime soon. Don't miss this golden chance! If your ultimate dream was becoming a Punjabi singer here's a great opportunity for you.
Zee Sa Re Ga Ma Pa Punjabi will be aired every Saturday and Sunday on Zee Punjabi, 7:00 PM onwards. You can also catch all the episodes on Zee 5 official website or Zee 5 app which Is available on Android as well as iOS.