Bigg Boss Marathi 3 Winner Name 2021 | Bigg Boss Marathi 3 Grand Finale | Bigg Boss Marathi Season 14 Winner Name, Runner-up & Prize Money
Bigg Boss is an Indian reality television game. It is the Indian version of the Dutch-British show Big Brother. Contestants called "housemates" live together in a house that is specially constructed for them and is isolated from the outside world. Housemates are voted out, usually every week.
Eventually, one housemate would leave after being "evicted" from the house. In the final week, there will be five housemates remaining, and the public will vote for who they wanted to win. During their stay in the house, contestants are continuously monitored by live television cameras as well as personal audio microphones. Every day's episodes contain the main happenings of the previous day.
The house is well-furnished and decorated. It has a range of modern amenities, two bedrooms, a living area, a kitchen, a storeroom, a smoking room, and four toilet bathrooms. There is a garden, pool, activity area, and gym in the house.
There is also a Confession Room, where Bigg Boss may call in the housemates for any kind of conversation and the nomination process. The house has no TV connection, no telephones, and no Internet connection. The set has been built in the place of the Bigg Boss Hindi version. There are 100 CCTV cameras that keep an eye on contestants.
Bigg Boss Marathi 2021 Contentants: Bigg Boss Marathi is the Marathi-language version of the reality TV program Bigg Boss and airs on Colors Marathi in India. The show has completed two seasons with Mahesh Manjrekar as the host. The third season is planned to launch in May 2020 but delayed due to the COVID-19 pandemic and postponed and the third season likely to launch in 2021. Here is the Bigg Boss Marathi winner list of all seasons 1,2 and 3.
Bigg Boss Marathi Season 1 Winner – Megha Dhade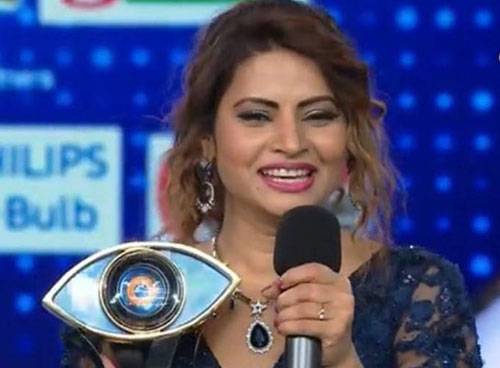 Bigg Boss Marathi Season 1 of this popular show was first aired on 15 of April 2018 and completed on 22 of July 2018. It was a 98 days long show, with 99 episodes and 19 housemates. The luxurious Bigg Boss house was situated in Lonavala. Actress Megha Dhade won the first season of Big Boss Marathi on July 2018, who later also appeared in Bigg Boss 12 as a wild card contestant the same year, followed by the first runner-up, Pushkar Jog and the second runner-up was Smita Gondkar.
Runner Up – Pushkar Jog
Year – 15 April 2018 to 22 July 2018
Prize Money – Rs.25 Lakhs
Bigg Boss Marathi Season 2 Winner – Shiv Thakare
Bigg Boss Marathi Season 2 was launched on 26 May 2019 on Colors Marathi with the tagline 'Maza ball, Mazi bat, Maza stump'. The Lavish Bigg Boss house was constructed in Goregaon Film City, Mumbai for this season. The theme of the house was 'Royal Wada'. The prize money for the winner is Rs. 25 Lakhs. Most of the rules are carried forward from the previous season, but a new element, "Adgalichi Kholi" or Jail was introduced in Bigg Boss Marathi from this season. MTV Roadies won it, season 15 semi-finalist Shiv Thakare on 1st September 2019. Shiv Thakre, Neha Shitole, and Veena Jagtap emerged as the Top 3 finalists of the season.
Runner Up – Neha Shitole
Year – 26 May 2019 to 1 September 2019
Prize Money – Rs. 25 Lakhs.
Bigg Boss Marathi Season 3 Winner – Vishal Nikam
In the grand finale, the winner title was given to Vishal Nikam. He is a known actor in the marathi film industry. He started off his career in 2018 and is famous for his role in Jai Bhavani Jai Shivaji as Shiva Kashid. He won a cheque of Rs. 20,00,000. The runner up of this season was Jay Dudhane who is a popular fitness trainer, model, and aspiring actor.
Runner Up – Jay Dudhane
Year – 2021
Prize Money – Rs. 20,00,000
Bigg Boss Marathi Season 3 Winner – To Be Announced
This season was started in 2021 but yet to announce the Bigg boss Marathi season 3 winner of this season. The show has gained huge popularity among people, and the reality show becomes a crucial part for one to enter the Marathi Movies and TV industry.
Runner Up – TBA
Year – 2021
Prize Money – TBA
Stay tuned with us for the latest updates and information regarding Bigg Boss Marathi Winners Name in 2022.